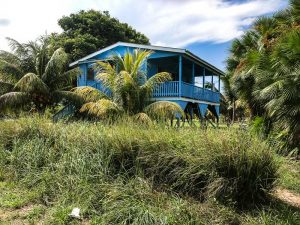 PRICE: $109,000 USD Here is a rare opportunity to buy a very large double width lot with 2 bedroom house in the popular tourist village of Hopkins!
This property is fully titled and has ample room for one or two more houses, measuring 125′ wide by 86′ deep.
The beach is only about 2 minutes away, but the property is away from the hustle and bustle of the main road in the village, so you can enjoy the best of both worlds!
The lot has been filled and is high and dry.
The house has two bedrooms, one bathroom, kitchen and living room and also a 6 foot porch on two sides of the house. The house sits on 8 foot posts for added breeze and also provides parking and storage under the house.
There is a large raised water cistern for water which is a necessity in the village since the water supply is intermittent.
Large, double lots are a rarity in Hopkins Village, but here is your chance to own one with a nice 2 bedroom house for only $109,000 USD!
Listing Price: 109,000
Location/Address: Hopkins Village
City/Town/Village Hopkins
District: Stann Creek

Reference Number: 1447
Property Size: Double Lot
Bedrooms: 2
Bathrooms: 1

We would love to hear from you! Please fill out this form and we will get in touch with you shortly.