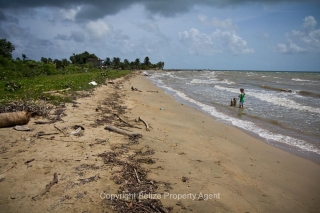 Price Reduced:*SOLD! SOLD! SOLD!

Rare opportunity for an AFFORDABLE top quality beachview house that sits only 175 UNOBSTRUCTED feet from the Caribbean sea in Belize.  This house has been completely renovated and is in brand new condition, and is fenced all the way around for pets, with gates front and back.
There are three bedrooms, each with AIR CONDITIONING, and two bathrooms including one bathroom which is ensuite in the master bedroom. All rooms have ceiling fan/light fixtures.
The kitchen has been completely re-done with rare local hardwoods by a local master cabinet maker.
The main kitchen dining living-room consists of an open, airy and very livable floor-plan.
In the backyard there is a well-bearing lime tree, banana trees, coconuts and aloe vera plants.
A large workshop/toolshed was recently built to store the garden equipments and also provide the owner with a workshop.
Dangriga has a severe shortage of nice rental properties and this property could easily be rented for $600-$1000 per month depending on the season!
The house is located just to the south of Dangriga town, in an excellent, quiet neighborhood, and the adjoining UNOBSTRUCTED beach is the highest in the area!
The house and lot are just 175 feet from the beach, with the property between the house and beach consisting of undeveloped land which may be available for purchase in the near future.  In the meantime, this means this house is actually just like beachfront since the owners of the property between this house and the beach allow full access to the beach!!
This house has it all…. UNOBSTRUCTED beachview AND BEACH ACCESS in a very quiet neighborhood just outside of town, with very easy access to the main downtown area of Dangriga right there.
If you've been looking for an AFFORDABLE  way to get your dream house in Belize, then this property may be the one you've been waiting for!
THIS IS A SUPER DEAL!

Listing Price:
Location/Address: Jetty Road
City/Town/Village Dangriga
District: Stann Creek

Reference Number: 1346
Property Size: 120' by 60'
Bedrooms: 3
Bathrooms: 2

Contact Us!
We would love to hear from you! Please fill out this form and we will get in touch with you shortly.