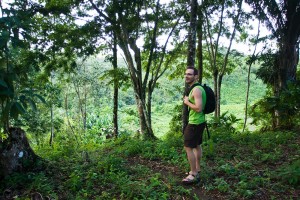 Article Preview By David Gobeil
Mick and Lucy Flemming are well known as the first foreigners to start a successful "jungle lodge" in remote rainforests of Belize.  While backpacking through Central America in the late 1970's they arrived in Belize and basically never left.  They managed to acquire a large parcel of pristine rainforest near the Western border of Belize only a few miles from Guatemala, complete WITHOUT road access, and slowing develop it over the years into the world famous "eco friendly" jungle lodge know today as The Lodge at Chaa Creek.
The accolades have been many for the Flemmings over the years, including being recognized as true "green" entrepreneurs in several environmental tourist publications, and also being recognized as the first true "green" jungle lodge in Belize. The driving force behind their success has been a simple philosophy to help promote interest in environmentally sustainable practices and promoting the rich local culture.
BELIZE, October 6, 2012 – Chaa Creek Resort in Belize bills itself as "wildly civilized." And rightly so.
But it hasn't always been that way. Wild? Yes. Civilized? Not so much.
It all began in 1977 when two young globetrotters arrived in Central America with little more than the clothes on their backs and an adventurous spirit. Soon after, Mick and Lucy Fleming met the owner of a dilapidated 140 acre farm located on the western edge of Belize about four miles from the border of Guatemala.
In true entrepreneurial style, the Flemings figured a way to purchase the property, and the rest is history.
Before long Mick and Lucy were living in a thatched roof house in the middle of the jungle. The land was now producing milk, yogurt, cheese and eggs while the Flemings were producing two children.
So thick was the forest surrounding the land, there was no access road to the property. To make a living Mick and Lucy paddled their produce to market in San Ignacio by dugout canoe just as the native Maya had done ten centuries earlier.