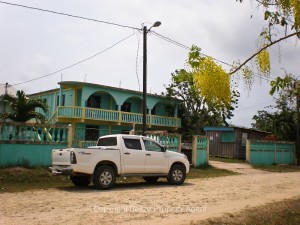 Price$189,000USD!! ($378,000BZD!!)
Belize Property Agents is pleased to offer for sale this beautiful 2 story house in the Monument site, Dangriga town.
This area in Dangriga Town is a very popular place for families since "Gulisi Garifuna Museum" is only a stone throw away.
This two story house which measures approximately 41 feet in width and 43 feet in dept can be split into 2 sections and can be either commercial or residential.
The first floor of the house consist of 2 bedrooms, 2 bathrooms, a kitchen and living room and  the second floor has 3 bedrooms, 2 bathrooms, a kitchen and living room.
The upstairs has nice verandas which overlooks the Gulisi Museum and the Hummingbird Highway.
Dangriga is rapidly becoming one of the most desirable places to live in the country of Belize due to the low crime rate, beautiful location on the ocean, and it's strategic location in the center of the country.
If you are thinking to reside in this peaceful neighborhood in Dangriga Town. Then this prime parcel of Belize Real Estate can be yours at only $189,000USD!! ($378,000BZD!!)
Listing Price: $189,000USD!!
Location/Address: Dangriga (Monument Site)
City/Town/Village Dangriga
District: Stann Creek


Reference Number: 1394
Property Size:
Bedrooms: upstairs-(3) Downstairs-(2)
Bathrooms: Upstairs-(2) Downstairs-(2)

property gallery
Property Location
[mappress mapid="29"]
Please click on image for larger view.
Would you like any m0re info on this property? CLICK HERE! And quote property number 1394