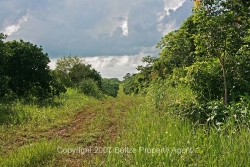 No. 1026  *************SOLD********************  This beautiful Belize land and real estate is located about ten minutes from the capital city of Belmopan, just off the Western Highway at Roaring Creek.
There is an excellent all season road, and the area is surrounded by low, rolling hills.
The 80 acres of income-producing citrus are some of the best bearing that I have seen….VERY well maintained crops!!!
The proximity of the land to Belmopan means it would make an ideal housing development or resort.  The Roaring Creek Golf Course is nearby!
This Belize land is an attractive investment parcel.
If you are looking for prime, income producing Belize real estate very close to Belmopan which can be further developed you will not believe this price of only $550,000 U.S.!!! *************SOLD********************
In addition, the owner has informed me he is willing to subdivide and sell parcels.

Listing Price: $550,000USD
Location/Address: Roaring Creek
City/Town/Village Roaring Creek
District: Cayo

Reference Number: 1026
Property Size: 298 acres
Bedrooms: N/A
Bathrooms: N/A

property gallery
Click on any image for larger view
Would you like any more info on this property? CLICK HERE! And Quote Property No. 1026