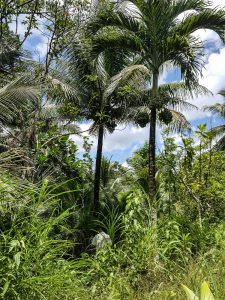 PRICE: $55,000 USD. UNDER CONTRACT Here is a magical property which "checks all the boxes" for most property hunters in Belize.
It's 7.5 acres of very lush jungle about a mile off of the Hummingbird with two all season streams running through it at MILE 17.
This is one of the few acreages off the beautiful Hummingbird Highway that also has ELECTRICITY AND MUNICIPAL WATER! The power lines and water mains reach all the way to the rear of the property giving owners a lot of choice where to build since the power is already run the length of the property.
The property is bordered by a small mountain to the south.
The owners have planted every conceivable tropical fruit tree and plant over the years so there are dozens of well bearing mature trees including banana, plantain, mami apple, avocado, star apple, lime, orange, grape fruit, bread fruit, cashew etc etc etc.
This location is perfect for a magical homestead, or a resort with the best of both worlds since the Caribbean Sea is only about 20 minutes away!
This beautiful lush jungle acreage on the Hummingbird is being offered at only $55,000 USD UNDER CONTRACT
Listing Price: $55,000
Location/Address: Mile 17 Hummingbird Hwy
City/Town/Village steadfast
District: stann creek

Reference Number: 1450
Property Size: 7.5 acres
Bedrooms:
Bathrooms:

We would love to hear from you! Please fill out this form and we will get in touch with you shortly.