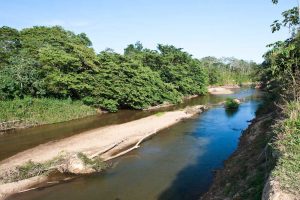 Price: $79,000USD Belize Property Agents is pleased to offer for sale a PRIME .91 acre parcel located directly on the Stann Creek River about 2.5 Miles from Dangriga, just off of the Hummingbird Highway. This is an absolutely perfect place for a resort, or a large homesteading site on the river. The banks are high in this location and it does not flood. Power and municipal water are available at the site. This parcel could also be subdivided into three to four home lots. This is a fantastic opportunity to purchase PRIME river frontage close to the sea and close to the south-central town of Dangriga where the regional airport and hospital is located. The river is still quite deep at this location and is navigable by small boats all the way to the Caribbean Sea. The owners would consider selling half of an acre and have already paid a surveyor for the preliminary survey to subdivide the property. The survey sketch below shows the entire property divided into two parcels. Amazing Deal at only $79,000 usd!
Listing Price: $79,000
Location/Address: Mile 2.5 Hummingbird Highway
City/Town/Village Dangriga
District: Stann Creek

Reference Number: 1445
Property Size: .91 acres
Bedrooms:
Bathrooms:

We would love to hear from you! Please fill out this form and we will get in touch with you shortly.