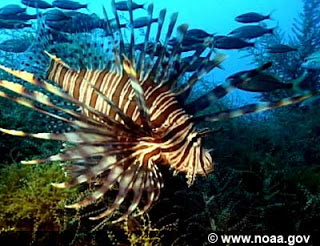 Article Preview By David Gobeil
A writer for the Washington Times was recently in Belize for a relaxing vacation and unwittingly found herself helping preserve Belize's Barrier Reef by hunting and killing Lionfish.
Sadie Dingfelder says while she was staying in Placencia she was invited on a night whale shark watching expedition, and during the expedition she found out about the invasive Lionfish.
The Lionfish, which has been wrecking havoc from the shores of Maine to the Florida Cayes and all through the Caribbean, was first discovered in Belize in 2002.
These fierce predators are indigenous to the Pacific and Indian Oceans and were accidentally introduced to the Atlantic in the 1980's.  When Dingfelder heard about how destructive these invaders are to the reef, she agreed to go on a "Lionfish hunting expedition".
On the hunt she manages to spear one Lionfish while hear guide speared about six more, which they brought back to her hotel to cook for dinner.
Read the article at it's source here:
Sinking slowly through Belize's turquoise sea, Giovanni Gonzalez has murder on his mind. The dive guide scans the reef, his dreadlocks moving like a sea creature. I see only the usual confetti of tropical fish, but I can tell that Gio has spotted a lionfish tucked into the coral.
He readies his spear, takes aim and fires. The impaled fish materializes in a cloud of silt, thrashing to free itself — or at least sink a poison-barbed fin into someone's skin. No fool, Gio pulls out a pair of scissors and disarms the fish by snipping off its spiky fins. A squeamish vegetarian, I turn away and watch the fins drift like feathers toward the ocean floor.
(Gene Thorp/The Washington Post)
Gio is clearly having a lot of fun, but he's also ridding the reef of a dangerous invader. Native to the Indian and Pacific oceans, lionfish were released into the Atlantic in the 1980s — most likely by Florida aquarium owners who tired of feeding the voracious creatures. Since then, these orange-and red-striped devils have colonized coastal waters from Rhode Island to South America, devastating local fish populations wherever they go.
In Belize, they're making a meal of the tropical fish that tourists like me fly hundreds of miles to see. So, to protect the marine ecosystem and their own livelihoods, fishermen and dive professionals began hunting lionfish in 2002, Gio tells me once we're back on the boat. "There was a bounty then," he says. "Fifty dollars a fish." Even with a price on their heads, the lionfish continued their invasion. "We need tourists to spear lionfish, and we really need people to start eating them," Gio says.
When I'd booked my ticket to Belize, hunting and eating poisonous fish hadn't been on the top of my to-do list. My plan was to laze around on a quiet beach with a frozen drink and take a leisurely look at the undersea scenery. Topside in Belize, I found plenty of laid-back charm. But beneath the ocean's surface, I discovered a world of fearsome creatures engaged in a fierce battle for survival — and I got pulled into the melee myself.