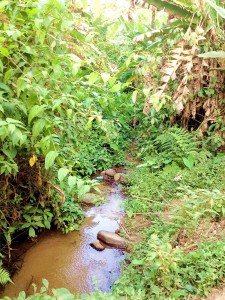 SOLD!!! SOLD!!!! SOLD!!! Price: $65,000USD
Situated at Mile 16 just off the Hummingbird Highway 25 acres lay at the foot of the Maya Mountains and it's easily accessible by a stone road any time of the year.
This parcel offers a spectacular view of the valley and the nearby hills and mountains and is blessed with very fertile soil that the river brought some thousand years ago.
The area was once populated by Maya. There are traces of their former presence on the two hills that the  property sits on.
About two thirds of the property is flat and was once planted with citrus. Two year round creeks run through, fed by the springs located here.
The property still has some bearing trees along with lots of wild bananas and trumpet trees that will provide shade for future garden or orchard. The hill tops are ideal settings for one, two or more houses.
Whether buying to build your dream home, a resort, a retreat or just as an investment and hedge against inflation, it is a great value at only $US 65,000. This is a rare find that will not last long.
Listing Price: $65,000USD
Location/Address: 16 Miles(Hummingbird Highway)
City/Town/Village Alta Vista
District: Stann Creek


Reference Number: 1390
Property Size: 25 acrees
Bedrooms: N/A
Bathrooms: N/A

property gallery
property location
Please click on image for larger view.
We would love to hear from you! Please fill out this form and we will get in touch with you shortly.