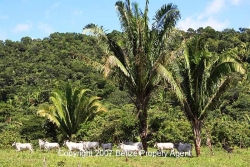 SOLD SOLD SOLD!Price: $525,000U.S.D!!!    No. 1012
This magnificent parcel has it all.  There are mountains, rivers, cleared pastures, income producing citrus groves and even a herd of cattle!
The property is located at around mile 30 and is bordered by thousands of acres of National Forest Reserve and a large citrus company.
The property has approximately 750 feet of highway frontage with power and water supplied.  This parcel would be ideal for subdividing into smaller parcels for re-sale.
There is a three bedroom concrete and wooden house.
The owner has converted approximately 80 acres to pasture for grazing cattle, horses, pigs and goats.
There is about 40 acres of lower-woodland, about 4 to 5 years old and nearly ready for harvesting.
Another 170 acres is high-woodland, including over 300 mahogany trees about 3-4 years old.
The property can be used for tourism development, agro-forestry, cattle ranching, crop growing, citrus farming or even subdivided for future community developments.
This large parcel is the ONLY one of it's size in the surrounding area, and is an excellent bargain right now at only $525,000 U.S.D!!! SOLD SOLD SOLD!

Listing Price: $525,000USD
Location/Address: St.Margaret's Village
City/Town/Village St. Margaret's
District: Stann Creek

Reference Number: 1012
Property Size: 320 acres
Bedrooms: 3
Bathrooms:

property gallery
Click on any thumbnail for enlarged view.
Would you like more info on this property? CLICK HERE! And Quote Property No. 1012