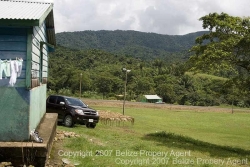 Price: $20,000 U.S.!!!    No. 1002*************SOLD********************
This approximately 3/4 of an acre lot sits on the side of a hill on the Hummingbird Highway right in the middle of the Hummingbird Community at Mile 24.
The house has a concrete base with the top finished with lumber.  There is power, water, telephone, and cable vision is planned.  The lot offers a spectacular view towards the northern mountains of the Hummingbird, and overlooks the village basketball courts and park.
There are several citrus and coconut trees planted in the rear of the property.
This fully titled property offers an incredible opportunity for someone to purchase a nice big lot with livable house and incredible views for VERY CHEAP.
Due to a recent death in the family the owner wants to sell quickly and is only asking $20,000 U.S.!! *************SOLD********************

Listing Price: SOLD
Location/Address: Hummingbird Community
City/Town/Village Middle Sex
District: Stann Creek

Reference Number: 1002
Property Size: 3/4 acre
Bedrooms: N/A
Bathrooms: N/A

property gallery
click on any thumbnail to enlarge image
Would you like any more info on this property? CLICK HERE! And Quote Property No. 1002