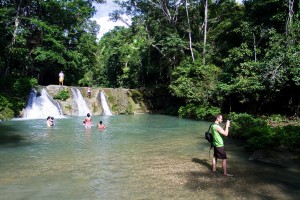 Article Preview By David Gobeil
I remember about four years ago here in Dangriga Town, where I've lived for almost seven years, I met a Professor from the University of Arkansas who was here in Belize supervising the annual school trip to Belize so his students could gain some "practical study", while also conducting a study for his upcoming classes.
The study was relatively simple — administer a short questionnaire to a sampling of the local population, specifically about "personal happiness".
Well, even after his rental car was broken into down in Hopkins and the radio stolen, and he was covered in various bug bites, and he'd lost about five pounds due to a bad bout of diarrhea, he still couldn't stop singing praises about Belize.
The reason was that his survey clearly showed that regardless of how a "First World Person" views Belize, the reality is this:
The "happiness level or quotient" of the people surveyed in Belize was DOUBLE the respondents surveyed in the U.S.
So imagine my surprise last week when I start seeing "Belize is Number 4 in World Happyness Index"!  But it really shouldn't come as a surprise to anyone who has visitied Belize, to quote Yahoo Travel which also covered the story: "A history of peace, impressive cultural diversity, and the world's second-longest barrier reef. Belize's place near the top of the index seems natural to many who've visited the small Central American country. And for U.S. travelers, the happiness needs no translation, since English is the official language in Belize."
The Happy Planet Index Report measures how countries balance personal well-being, environmental impact, and life expectancy. Plan your next trip to Belize and you just might get to feel some of the "happyness"! Belize placed fourth behind Costa Rica, Vietnam,  and Colombia.
This study confirms what I've know for many years…. Belize truly is the "undiscovered country" where people can still come and buy Belize real estate for reasonable prices and live in a country where the true meaning of "live and let live" still rules. Of course this tiny country is not perfect, there is rampant crime due to gangs and the drug trade in Belize City and petty theft is a problem everywhere… but compared to most of the other places I've lived in the world Belize definitely ranks near the top of MY happiness index!