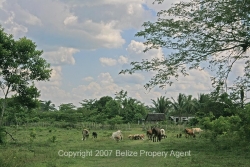 No. 1032 SOLD, SOLD, SOLD, SOLD, SOLD, SOLD, SOLD, SOLD!!!!! This is an incredible 65 acres of Belize Real Estate in More Tomorrow Village off of the Western Highway with about 600 feet of frontage on the Belize River!!!
This Belize land is accessed by an excellent all weather, all season road from the Western Highway just north of Belmopan.
The property has about 25 to 30 acres of pastureland with excellent quality soil for growing or grazing.
A very good access road crosses to the rear of the property where there is a sandy beach right on the banks of the river!
This large, slow moving river is excellent for boating, fishing, kayaking, swimming and even sun bathing on the sandy beach.
Many howler monkeys could be heard while I was visiting and photographing this Belize Real Estate.
This property has potential for farming, subdividing, building a river side resort or what have you!
SOLD, SOLD, SOLD, SOLD, SOLD, SOLD, SOLD, SOLD, SOLD, SOLD!!!!!

Listing Price: $
Location/Address: More Tommorrow Village
City/Town/Village Belmopan
District: Cayo

Reference Number: 1032
Property Size: 65 acres
Bedrooms: N/A
Bathrooms: N/A

property gallery
Click on any thumbnail for larger view
Would you like any more info on this property? CLICK HERE!