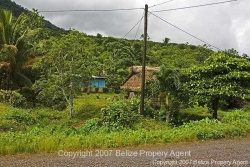 Price: $49,000 U.S.!!!    No. 1008*************SOLD********************
This beautiful property is located in the Hummingbird Community near mile 24 on the Hummingbird Highway.
Services include power, water and telephone with plans for cable vision.
The lot is just over one and-a-half acres with approximately 225 feet of highway frontage and extending 300 feet back from the highway. There is a fast-flowing all-season creek through the property.
Currently there are three wooden structures which could be improved or razed to allow for construction of a new home or resort or business.
There are many fruit trees, including orange, coconut, bananas, plums and breadfruit dotting the property.
The village park and tennis courts are nearby.
This fully titled property is being offered at only $49,000 U.S.!*************SOLD********************

Listing Price: SOLD
Location/Address: Middle Sex Village
City/Town/Village Middle Sex
District: Stann Creek

Reference Number: 1008
Property Size: 1 1/2 acres
Bedrooms: N/A
Bathrooms: N/A

property gallery
click any thumbnail for larger view
Would you like any more info on this property? CLICK HERE! And Quote Property No. 1008