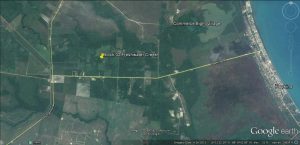 Sold Sold Sold PRICE $9,000 USD (18,000 bzd) for the lot. Here we have ONE prime HALF acres lot available just off the brand new Hopkins road only a few miles from the tourist village of Hopkins! This is lot #7 on the survey plan and is about half mile off the road on an excellent feeder road. It is partially cleared, and is high and dry and ready for building. This area is Prime due to the rapid expansion of the tourism sector in Hopkins Village, but give you the tranquility of living near, but not in the village.
This a very large lot and is priced to move at
Sold Sold sold $9,000USD or 18,000bzd.
Listing Price: Sold 9,000usd
Location/Address: Hopkins Road
City/Town/Village Hopkins
District: Stann Creek

Reference Number: 1442
Property Size: 1/2 acres
Bedrooms:
Bathrooms:

We would love to hear from you! Please fill out this form and we will get in touch with you shortly.