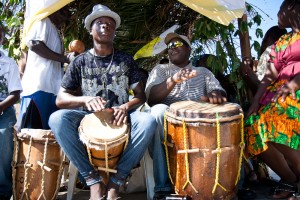 Article Preview and Photo By David Gobeil
The Stann Creek District, namely Hopkins and the surrounding area were recently featured in the New York Times travel section.  The author visited some of the local famous attractions such as the Cockscomb Basin Jaguar Preserve and also stayed at a few higher end hotels in Hopkins.  Once again Belize is being featured in top-rank publications and the country's exposure continues to grow!
Click on this link for the entire article
By Claudia Dreifus
WE were hiking through the woods of the Cockscomb Basin Sanctuary and Jaguar Preserve in Belize, the more-than-150-square-mile verdant reserve that is a no-hunting haven for many species of this hemisphere's wild cats — the puma, ocelot, jaguarundi, margay and jaguar. As we moved along well-tended trails, there were signs of activity — muddy paw prints by a riverbank, bits of jaguar scat — but we were unlikely to actually see any of these magnificent creatures.
Multimedia
Atlantide Phototravel/Corbis
A Garifuna drummer.
"They don't like to get too close to humans," said our guide, Dr. Rebecca Foster, a staff scientist with the conservation group Panthera. "I hope you're not disappointed."
How could we be? Even without a jaguar sighting, the sanctuary was a gorgeous Eden, full of natural wonders. Giant ferns lined the trails. Above us, howler monkeys scampered through the trees, and parrots and toucans glided through the air. Moving quietly, one might catch a glimpse of a deer or pig-like peccary — the jaguar's preferred prey. After a few hours at Cockscomb, it felt as if we had stepped, full body, into a Henri Rousseau painting.
Given this richness of nature and wildlife, it's no surprise that the sanctuary is driving an eco-tourism boom in the Stann Creek District, the south-central coastal area of Belize that it abuts. And Stann Creek's appeal extends beyond the sanctuary. For birders, there are some 300 species roosting in the district's marshes and forests. At the shore, only a few minutes from Cockscomb, are miles of white sand beaches, facing out onto one of the largest coral reefs in the world. A marine reserve district at the reef ensures first-class skin diving. Stann Creek also has a good supply of lodging at all prices and opportunities to interact with the interesting local cultures.