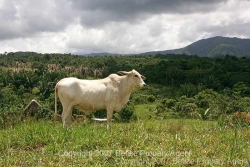 Price: From $60,000 U.S.!!!SOLD,SOLD,SOLD,SOLD,SOLD,SOLD!!!!!!!!!!!!!!!!!!!!    No. 1015
Here are two STUNNING adjoining 50 acre parcels with separate titles just off the Hummingbird Highway near St. Margaret's Village.
The two acreages are about a mile from the Hummingbird Highway and St. Margaret's Village on a very good all-season road. There is ample water from two all-season streams or a well, and power is planned. The first property is mostly uncleared natural jungle.
The second property has about 15 acres of cleared pasture and a high hilltop that gives a BREATHTAKING 360 degree view of the valley and surrounding mountains. On the northern edge of the property is a large all weather creek with lots of gravel and stones for concrete or what-have-you. There is a banana grove, oranges, coconuts and even maize.
The property is basically a turnkey operation for someone who would like to raise cattle or horses, or grow crops. The hilltop is an ideal location for a house or other development.
These properties are a fantastic deal…..the first, uncleared 50 Acres is being offered at $60,000SOLD,SOLD,SOLD,SOLD,SOLD,SOLD,!!!!!! U.S. and the second, cleared 50 Acres with pasture and citrus is offered at $80,000 SOLD,SOLD,SOLD,SOLD,SOLD,SOLD,SOLD!!!!!!!!!U.S.!!!

Listing Price: $60,000USD
Location/Address: Near St. Margaret's
City/Town/Village St. Margaret's
District: Stann Creek

Reference Number: 1015
Property Size: 100 acres(two 50acre parcel)
Bedrooms: N/A
Bathrooms: N/A

property gallery
Click on any thumbnail for larger image
Would you like any more info on this property? CLICK HERE! And Quote Property No. 1015