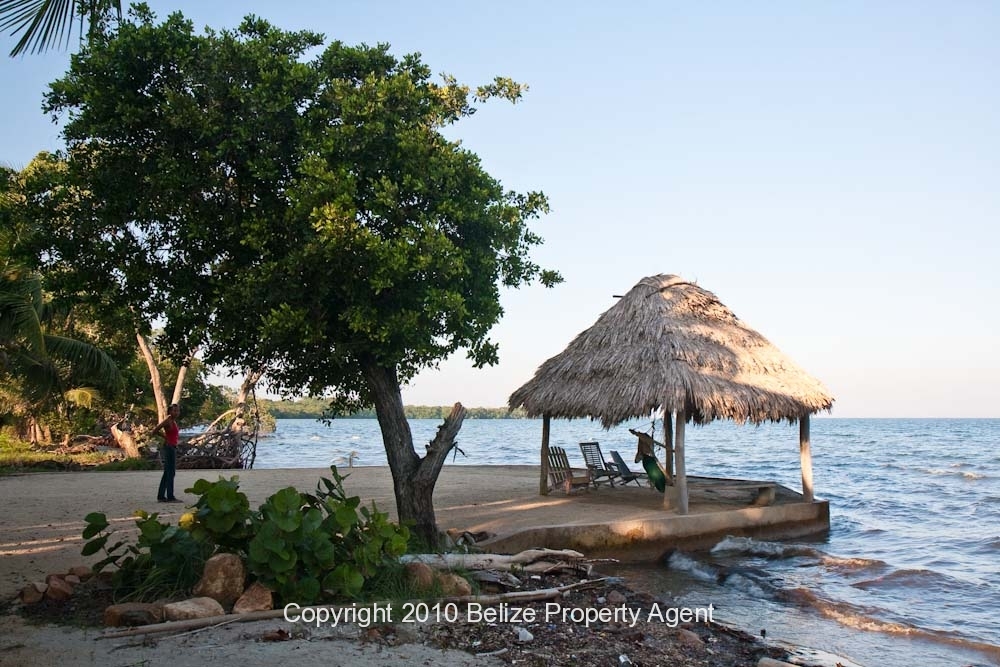 Price: $379,000 U.S.D.! SOLD SOLD SOLD
This is perhaps the finest home in Sittee Phase 2 just to the south of Hopkins.
This fabulous parcel of Belize real estate is situated on a 50′ by 120′ beachfront lot with concrete seawall finished to prevent any erosion of the beach. It is the only property in Phase 2 without any beach erosion.
The house is constructed of the finest materials mostly all imported from the United States including argon filled window, plumbing fixtures etc.
All of the furnishings, which are included in the sale, are of the highest quality.
The owner is an absolute stickler for maintenance, hence this home is in better condition than homes that are almost new.
The entire lot is tastefully fenced in, and all the windows have hurricane shutters for added security.
This gorgeous beachfront home on a beautiful seafront lot is turn-key and ready to move into.
Here is some additional info provided by the owner:
House is built by an American to American standards and codes as of 2003. Excepting wood, all parts were imported from the USA.
All problems experienced by prior builders/owners in the neighborhood were studied and addressed/corrected in the design and construction (e.g. septic problems, foundation issues, etc.)
Foundation: 3 foundations in one consisting of 40 ft, reinforced concrete pilings, then a conventional foundation filled with compressed sand, then a slab foundation over the top of that. Lot has been filled and raised 2 feet.
Exterior Features: The house is wrapped in Tivek, then in a radiant barrier and is insulated with fiberglass on the East, South and West. Roof interior is covered with a radiant barrier. Windows are double pane, argon gas filled, vinyl windows.
The house exterior is imported Hardiplank. Paint jobs last ~7 years as opposed to 1 or 2 for other materials. Impervious to insects.Verandah railings are imported Trex which needs no maintenance, is impervious to insects and needs no painting.There is veranda on all four sides of the house meaning one can always find shade and a breeze (assuming the wind is moving).The lot has been extended 40 feet to the east and completely fenced and landscaped in the rear.
Interior Features: Entire house is tiled including verandas, steps, etc.
Cabinets are of custom Salmwood and made to a modern North American design .Premium fixtures (Kohler, Schlage, etc.) NO CHINESE or BELIZE STUFF!House is designed to allow maximum ventilation via the Venturi effect. It can be ventilated during rain and with the doors closed.Rear steps are placed inside the garage which increases security and provides a dry access to the house.Dual water system with 800 gallons storage. (Rainwater and/or Sittee Village water can be used). Water is double filtered thru a 5 micron filter and sterilized via UV light before entering faucets.House is wired for cable/satellite TV and internet.MISCELLANEOUSGarage with automatic door.
Room for expansion downstairs.This premium parcel of Belize real estate will not last long at only $379,000 U.S.D.! SOLD SOLD SOLD
Property Details
Listing Price: $379,000 usd SOLD
Location/Address: Sittee Point
City/Town/Village Hopkins
District: Stann Creek


Reference Number: 1234
Property Size: 50' x 100'
Bedrooms: 2
Bathrooms: 1

Property Gallery
Please click on any image for larger view.
[mappress mapid="3″]
Would you like any more info on this property?
quote property number 1234
We would love to hear from you! Please fill out this form and we will get in touch with you shortly.